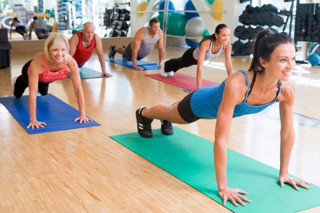 The Meadows is a very "active" community. We have easy access to miles of trails for walking, running and biking. Also, we have a quick drive to either the M.A.C. (at Phillip S Miller Park) or the Castle Rock Rec Center, but what if getting a workout in got even easier and you could do it indoors closer to home? Thanks to the Taft House and The Grange, The Meadows just got a little more active.
Take advantage of several fitness classes at The Taft House and The Grange. Get in shape joining a variety of classes.
Weekly Yoga
Build strength, flexibility, and balance with Power Yoga fitness classes. These fast-paced, intense yoga fitness classes blends breath-linked movement to improve coordination, balance, range of motion and flexibility. It is a great workout for everyone regardless of your fitness level. Professional fitness instructor, Jasmine Rinehart, will introduce and guide you through this unique workout. It is an essential component of any cross-training fitness plan when you are striving for that "one extra degree".
Details:
Dates: Tuesdays: May 1, 8, 15, 22 & 29
Time: 10:30-11:30 AM & 5:30 pm-6:30 pm
Age Requirement: 16+
Registration Deadline: One week before the start of each month
Special Note: Must pre-register for entire month long class. Please bring your own yoga mat.
Water Aerobics
If you want to take your workout outside, there are plenty of options for running, biking, and hiking. This summer at The Grange you can also get your daily cardio in at the pool with Water Aerobics classes. In this class, you'll jump in and get your heart pumping with a moderate cardio workout. The goal of this class will be to improve strength, mobility, flexibility, and endurance with low impact on your joints and back. This class is open for all levels 16 and over.  Classes are mornings and nights to fit your schedule better.
Details: Classes begin Monday, June 4 and run through August 31
Date and Time: Monday, Wednesday, Friday 8:30 am-9:30 am
Tuesday, Thursday 6:00 pm – 7:00 pm
Age Requirement: 16+
Cost: $7 drop-in, 10 punch pass – $50 (Expires at the end of pool season)
Location: Grange Pool
What are you waiting for? Get in shape this spring with the fitness classes offered here in The Meadows. Learn more and register online at meadowslink.com or call The Grange at 303-814-2358.