Orange County to The Meadows: Discovering the Small Town Difference
One of my favorite things about living in The Meadows is the opportunity to meet new people that come from near and far.  In our new feature on The Meadows blog, we'll meet some of the many citizens in our community.  I've been invited to interview several of these neighbors and share their stories.
This week, I spoke with Jenny Cramer. Originally from Orange County, California, Jenny and her husband, Travis, moved to Castle Rock in 2009. Currently residing in the Harris Grove neighborhood, Jenny is a stay-at-home mom and Travis works from home for a Christian non-profit organization. When she's not occupied with her newly adopted daughter, Bailey, you can find Jenny at our local Dumb Friends League Buddy Center at the adoption desk, where she volunteers.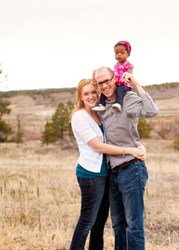 Why Castle Rock?
Jenny says, "We've always had our eyes on Castle Rock."  There's something about the small town feeling that they love; a bit of Mayberry compared to Orange County.
The leap from Orange County, California to our little town is a monster move. Naturally, she said the weather was a bit of a shocker. She recalled her first trip north on I-25 in the snow with a rear-wheel drive vehicle —not fun. Those of us that have lived in Colorado for a while have an instant sympathy sigh when we hear rear-wheel drive. After getting used to the white stuff and, of course, the temperature change, things fell into place. If there is one thing she misses about her old home, it's the weather. Obviously, that's the biggest difference between here and California, we have plenty of sun but they beat us as far as temps.
The other major difference between Castle Rock and California is the housing market. "It's much more affordable to live here" Jenny says.
Although she only lived 10 minutes from the school she worked at and didn't have to worry about the commute; she says traffic is much better here.
What do you like to do?
When not catching a Rockies game, Jenny and Travis are starting to explore fun family things to do around Castle Rock and the Denver Metro area. The Children's Museum, Denver and Cheyenne Mountain Zoos are all on the list. They've even enjoyed hiking up our infamous Castle Rock over the summer. They spend a lot of time at The Grange, enjoying the pools and many activities for kids such as PJs and Storytime. Jenny also enjoys the many programs offered by the Douglas County Library District.
What do you love about The Meadows?
When I asked her what she loves about The Meadows specifically, Jenny said, "we love the neighborhood in general; the constant sense of security and the small town charm that Castle Rock and The Meadows offers. It's amazing to just jump off the highway and we're in our own little village. It's a world away from everything, yet so close to Park Meadows and Denver."
Jenny and Travis' story is one that's so true for so many here in The Meadows. If you'd like to share your Meadows story let us know by commenting on our Facebook Page.