Get Involved with Earth Day Activities: Join The Willow Conservation Project
With Earth Day less than a month away, there are plenty of Earth Day activities popping up that you can get involved with throughout the Denver Metro area. The Willow Conservation Project has been an Earth Day staple in Castle Rock for over a decade. It's an incredible way for you to get involved and help keep Castle Rock beautiful. You can join the project fun on Saturday, April 16. 
Spruce up Castle Rock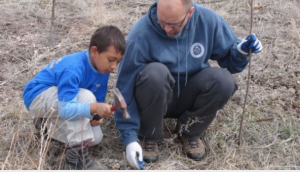 Each year, members from The POST Partners Volunteer Program harvest willows from the side of Plum Creek and replant them to help keep our trail system looking great. In the past, the willows were replanted along Sellers Gulch and the drainage areas of Philip S. Miller Park. This year's willows will be planted at three different crossings along The East Plum Creek Trail. Planting the willows along this stretch of the trail will help revitalize the area after recent construction between South Perry and Crystal Valley Parkway. 
Register to Volunteer with The Post Partners
POST (Parks Open Spaces Trails) Partners Volunteer Program offers a variety of opportunities to help keep Castle Rocks parks, open spaces, and trails in shape throughout the year. It doesn't matter if you're someone who has time to help keep Castle Rock Trails beautiful or a high schooler looking to fulfill volunteer graduation requirements; POST is a great way to get involved with your community and help maintain our trails and open spaces that we love so much. 
Each year, volunteers are needed to get the job done. So mark your calendar for Saturday, April 16, from 9-11 am. Help the community and the beloved Plum Creek Trail System. Register to volunteer for The Willow Conservation Project here. 
Do your part this Earth Day to invest in our planet. Join a community project like The Earth Day Willow Conservation Project here in town. Learn more about this project here.