What a Summer! The Meadows 2014 Summer Wrap
PHEWWWW! Let me congratulate all of you parents.  You made it back; you survived the absolute pandemonium, stressful, hormone infused first weeks of school.
Wait, it's not like that for everyone?
Well, we survived and I hope you did too.  With school back in session, the slight bite in the air and Labor Day this weekend, fall is essentially here. For us ski enthusiasts we're jacked to see the white dusting on the mountains as we look west in the mornings.  Before we get out the jackets and snow gear, let's first take a look back at some of the great events we had this summer in The Meadows.
Music in The Meadows –Weather Rocking Good Times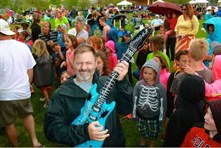 Although Mother Nature put up a fight – winning on a couple of occasions – Music in The Meadows was another success, offering great music and good times with friends and neighbors.  There was a little rock, a little country and even some classic eighties fun.  I can't wait for next year's Wednesday night traditions.
Bourbon, Beer and Wine Fests
If you've read past posts, than you know that I'm particularly fond of events that contain a bit of alcohol. So it's no surprise that my two favorite events at The Grange this summer were Bourbon and Brew Fest and the Castle Rock Winefest. Both were held in July, and they were a hit.  Hundreds of people showed for both, steadily tasting (or gulping) their samples.  What more can you ask for? Friends, neighbors, music and booze…it doesn't get much better than that!
I can't wait for these two fests next year.
Plenty of Events for the Kids
Adults don't get all of the fun. There are many events for the kids. Unfortunately, the original Movie Night in the park had to be rescheduled so I personally couldn't make it, but I hear it was a good time.
My kids enjoyed the music, pools and their favorite Wacky Wednesdays, the weekly fun time at The Grange.  They learned about our local heroes, Birds of Prey, Creepy Crawlers and more.  Kids also had the opportunity to learn how to cook with Chef Dana.
The 4th of July Festival at Bison Park is always a hit. Kids enjoyed the patriotic parade, music, food and more. It was a great afternoon warm-up to your own bash.
Despite the occasional rain shower (which is good for the drought), the summer in The Meadows was full of events.  They offered a great break from the normal day, a chance to meet neighbors and hang out with friends. I've only touched on some of the events; I would love to hear what your favorite events in The Meadows were. Let us know, share your favorite on The Meadows Facebook page .