CalAtlantic Patio Homes: More Variety in The Meadows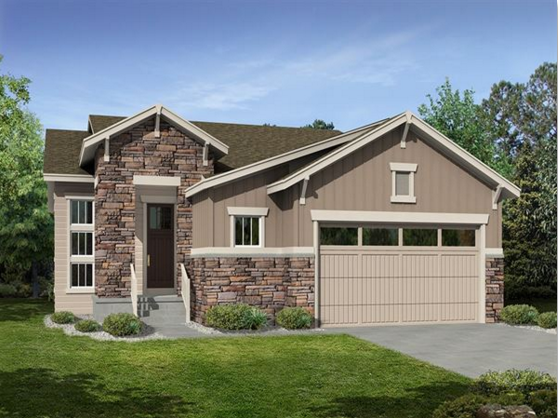 If there's anything that we have here in The Meadows, I'd say it is plenty of character; from the landscape to the residents and their homes. As the growth in The Meadows master planned community continues, more variety can also be found in the style of homes moving into the new neighborhoods. One that you may have noticed is from CalAtlantic Homes (formerly Ryland Homes); these homes are in the New Haven neighborhood on the south side of Meadows Boulevard along Red Hawk Drive. This community is now under construction and features patio homes with 5 floorplans available: Gradient Floorplan, Imagine Floorplan, Mirage Floorplan, Ponder Floorplan and Silhouette Floorplan.
CalAtlantic patio homes are single level ranch style homes. Models range from one to three bedrooms (all with a main floor master bedroom) and the option to finish the basement for added space. One of the highlights is that they're low-maintenance homes and ease the burden of upkeep on homeowners. These patio homes start in the mid $400's (patio villas are building from the high $300's).
CalAtlantic patio homes are also energy efficient. Their HouseWorks program ensures that your patio home or patio villa will be energy-efficient. From the foundation up, the patio homes are built with selected sustainable products to help conserve energy and save you money.
What Is A Patio Home?
You may be wondering – what is a patio home?  Patio homes share a lot of similarities with townhomes and condos except they tend not to share common walls with other units.  Most commonly an HOA will maintain the exterior of the home and common areas. In The Meadows, these patio homes are single-family, detached residences with access to all of the great amenities of the community.
If you're considering buying a new home in Castle Rock, CO and are looking for something low-maintenance, check out the patio villas and patio homes in The Meadows from CalAtlantic Homes in The New Haven neighborhood. Learn more and see model options here.