Summer Activities For Your Kids In The Meadows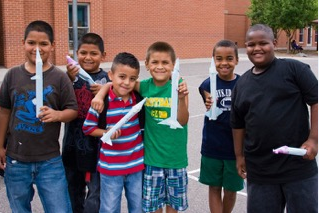 Can you believe that summer is almost here? It seems as if it was yesterday we were taking the traditional first day of school pictures on our front stoop. My boys can't wait for summer, and I'm a bit nervous. Things get hectic; schedules get busy, how are they going to stay busy? I don't want them to get bored, and I want to get some work done during the daylight. Rather than having them play video games all summer, my wife and I are rapidly organizing schedules and summer activities that they will enjoy. It's a good thing that there are many summer activities for kids planned in The Meadows at Castle Rock this year.
Pools
There's always pool time. I love taking the boys to the pool to hang with their friends. We've also had a great experience with swim lessons at The Grange pool.  Also, now with The Taft House opening soon, we'll be able to switch it up and rotate between pools.
Terrific Tuesdays
Formerly Wacky Wednesdays, my kids have enjoyed these summer programs for a couple of years now. It's a great way for kids to learn something new, have fun with their friends and it's also nice for you to get things done without kids for a few hours. Some of the summer activities this year include Reptiles from The Denver Zoo, Demonstration from the Castle Rock PD K-9 unit, Motorized Lego building and more. Terrific Tuesdays run every Tuesday from June 7 – July 27th from 1 – 3 pm at The Grange.
Summer Camps
This year The Taft House will also be hosting several summer camps for your kids. These camps will help all of our future engineers thrive with Lego building and robotics. There are several multi-day camps offered throughout the summer.
If you're like me and searching for fun, affordable things for your kids to do, The Meadows has a long list of fun summer of activities planned to help keep your kids active and busy. Visit the latest Meadows Living Newsletter on meadowslink.com to learn more about the activities and to sign up today!