Winter Night Lights Drive 2022: Don't Miss The Brightest Night of The Year
With all the nice weather we've had this year, I've seen many more people on roofs decorating for the season. As a result, I've already seen many beautiful light displays this year. Which makes it perfect for the best event of the year – the annual Winter Night Lights Drive in The Meadows.
My family has made the Winter Night Lights Drive a tradition. We love to load up the car with some hot chocolate and holiday music and drive around the neighborhood to gawk at the beautiful Christmas light displays. Let me tell you; The Meadows residents never disappoint — we have our share of Clark Griswold's. Each year, at least one of my boys asks, "Can we do that next year at our house?"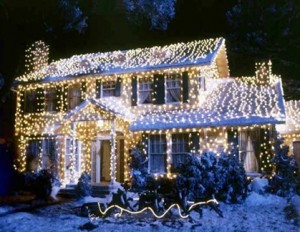 How to Experience The Neighborhood Lights
If you're new to The Meadows, here's the low down on this beautiful tradition. The holidays are a fantastic time in The Meadows and Castle Rock; each year, you can join the celebration throughout the neighborhood.
This year, The Winter Night Lights Drive will be on Thursday, December 15th.
Stop By The Grange for Some Treats
Make sure you stop by The Grange to say hi to your neighbors and grab some cookies, hot chocolate, and a map of homes competing in the Annual Night Lights Registration. The Grange will be open from 5:30 – 8:00 p.m. with treats and holiday cheer. 
Do You Think You Have The Best Display at Winter Nights Lights Drive
Of course, we all have a bit of a competitive spirit when it comes to holiday light displays. If you think your home has the best display and want to ensure the neighborhood knows where to find it, get featured on the Meadows map. Register your home by December 14 here. You can upload a picture of your display to be included on the map. 
The map will be published to the community on December 15th.
Don't miss this beautiful Meadows tradition. So load up the car and take in the lights! You can learn more about the Meadows Winter Night Lights Drive here.