Castle Rock Bike Trails in The Meadows
Take a Break! Hit The Bike Trails In The Meadows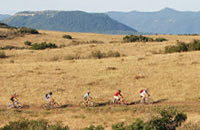 If there's anything that we've all been able to enjoy over the last few months during the pandemic, it's the many trails in our community. In many ways, our biking trails have kept a lot of us sane. They offer up an escape, a place to clear your mind, and a place for exercise and adventure.  And if haven't noticed, The Meadows is a master planned community that's full of activity. After all, it's a community designed for an active lifestyle, and it's great that so many take advantage of the wonderful trail systems that we have here in The Meadows and around our city. If you've spent any time at all on the Castle Rock trails, chances are you've seen a bicycle or two or three or four. Cycling in The Meadows and Castle Rock is huge! Why not? There are plenty of fun places to ride.
For those of you that are new to the community, here are a few of the featured bike trails in the area for you to explore and ride.
Castle Rock Bike Trails for Mountain Biking in The Meadows
Ridgeline Open Space
Located just off Coachline Road in The Meadows, Ridgeline Open Space is a popular spot for mountain bikers and consists of 370 acres and over 7 miles of Castle Rock bike trails for mountain biking. The soft natural trail makes it a great ride for both expert and beginner riders. As you ride through the open space make sure you take in the incredible views of Castle Rock below and the mountains to the west.
Philip S. Miller Park
Philip S. Miller Park is the newest place to ride in town. It offers over 8 miles of Castle Rock bike trails for bikers of all levels. You'll find a 1.2-mile paved loop, but its' primary native surface offers tough climbs blended with fast, and at times, technical downhills. As you're riding, take a break to soak in the glorious views that we love so much here in The Meadows. Look up and you'll catch someone flying over on the Castle Rock zip line tours that run through the park
Road Cycling
If you prefer to hit the road, you have plenty of cycling options in Castle Rock and the surrounding areas. If you're looking for a quick ride around The Meadows odds are you'll meet up with several other bikers doing the same.
Paved Castle Rock Bike Trails in The Meadows
If you want a paved Castle Rock bike trail, the East Plum Creek Trail offers a great 6-mile ride along the creek. It stretches from The Meadows to downtown Castle Rock. It also connects with other Castle Rock bike trails in town that will take you to the Rec Center and beyond.
Take it to the Road
From the famous Erock ride to Crowfoot Valley that meets Cherry Creek which can then take you to the DTC, Aurora and further, Castle Rock and Douglas County offer miles of different bike trails for bicyclists at any level.
Meadows Cycling Club 6202 Cycling
Did you know that we have our very own cycling club in The Meadows? 6202 Cycling is our local club open to bike enthusiasts at all levels. From social Thursday night rides for all ages around town, to intense rides for the most experienced bikers, 6202 Cycling is a great way to get out on your bike. For more information about the club and their rides visit www.6202cycling.org.
If you have a bike, use it to explore the Castle Rock bike trails in The Meadows, you'll be surprised about the incredible biking community and the many options to ride here in The Meadows and throughout Castle Rock. If you live here, what are your favorite rides? Let us know on The Meadows Facebook page.