The Castle Rock Parks in Featured in The Meadows
Need a Day at a Castle Rock Park? Plenty of Parks in The Meadows
When my wife and I were looking at homes six years ago here in The Meadows master planned community, one of the first things that I remember seeing are the Castle Rock parks. We drove by Butterfield Park, then we saw Paintbrush Park, but then we drove through some of the neighborhoods and noticed these smaller parks as well. With three young boys, we thought it would be perfect. A park strategically placed in a neighborhood, perfect for our kids to get out play and meet new friends. In addition to helping our boys meet new friends, my wife and I thought the Castle Rock parks would be a great opportunity for us to meet new neighbors as well. If you're new to The Meadows or are interested in moving to The Meadows here's a quick rundown of the major Castle Rock parks in The Meadows.
Butterfield Crossing Park
As one of the larger Castle Rock parks in The Meadows, Butterfield Park features a big playground for kids to play. It also has tennis courts, basketball courts, baseball field and a pool. There's also a turf field for soccer and football. The large grassy areas make it great for frisbee or a pickup football game. If you're having a large family gathering, Butterfield Park will give you plenty of space. This Castle Rock park is also home to one of my favorite community events in the summer, Music in The Meadows – the community's free summer concert series on evenings throughout the summer.

Bison Park
Its space age playground offers kids loads of climbing, swinging, and spinning fun. A favorite for playdates among parents too, Bison offers picnic spots so you can catch up with friends while the kids play. Bison Park is also home to turf fields for soccer, football, and baseball games. This Castle Rock park also has several tennis courts where juniors, women and men leagues play. Great walking paths surround the park, and it's close to Ridgeline Open Space that has miles of hiking and biking fun. You can find Bison Park behind Clear Sky Elementary school.
Paintbrush Park
Nestled along the Native Legend Open Space trail that connects to The Grange, Paintbrush park offers activities for everyone. Kids can explore climb among the maze of bridges and slides on the playground. This Castle Rock park  even has a little climbing tower so your kids can practice being king of the world.  A covered picnic area, horseshoe pits and sand volleyball court make this a great place for family gatherings in the summer. Even your dog can enjoy some time off the leash, as the neighborhood dog park is just north of the park. Chances are you'll also hear cheers from the two big baseball and softball fields — they are home to many tournaments throughout the year.
Philip S. Miller Park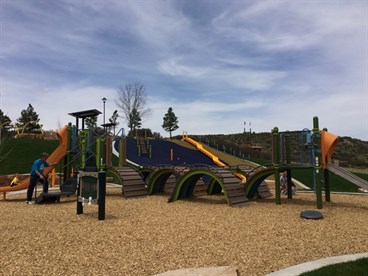 The area's newest park, Philip S. Miller Park, offers a lot of adventure. Hence the name of the playground area, The Adventure Playground, a two tiered play area for kids to climb, slide and swing around. This magnificent Castle Rock park is home to miles of trails for hiking, biking and running. It also features the challenge incline 200 steps that make for leg burning fun. Turf fields offer a place for football and soccer.  You'll also know that it's where the MAC field house is located. You can even soar above it all with a fun zip line tour from Castle Rock Zip Line Tours. The amphitheater and Mill House play host to many concerts and events. Fire pits and picnic areas are available to rent for your family gatherings The best part – it's still growing!
In addition to the three major Castle Rock parks, you'll probably find a smaller park within your neighborhood. Castle Rock parks are great fun for the kids, but they also help bring a community close, whether it's a Sunday afternoon with your kids or an organized playdate with a small group. The Castle Rock parks in The Meadows offer a wide variety for everyone. They are all convenient and connected by one of the many Castle Rock trails. It was a key selling point for me and my family, and they haven't let us down. Check them out as you explore The Meadows. If you already live here, what's your favorite Castle Rock park?